A Suitcase Filled With String Beans
A woman gets on a long-distance train from Changchun to Shenzhen with a large suitcase.
Ruth Silbermayr-Song
Author
We take the train from Changchun in Northeast China to Shenzhen in Southeast China. Taking more than 36 hours, it is the longest train ride for me so far.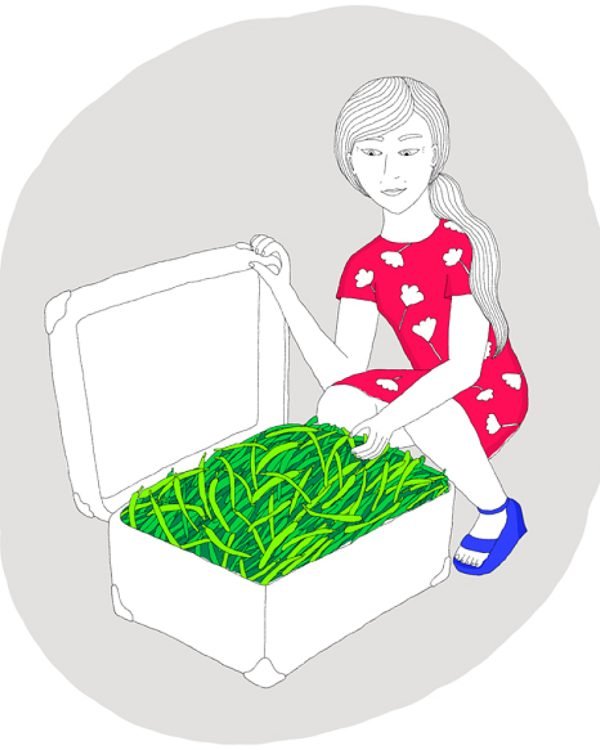 At one of the stops, a woman gets on the train. She puts her luggage beneath one of the berths of the 6-bed compartment my husband is sharing with four other people tonight. She's standing in front of the bed, pondering if she should take it out again. She then does exactly that. She opens the suitcase and puts a handful of string beans on one of the berths that are not occupied. She then takes another handful of string beans out of the suitcase and puts it on the bed. And another one.
In the end, the berth is full of string beans. But she isn't done yet. Her suitcase is still filled with other things.
She takes out a bag of tomatoes, putting it carefully onto the berth. Then she takes out a bag of cucumbers. And salads. And a whole watermelon. Then 5 kg of sugar melons. A few dozen boiled eggs. That's it. She's done.
She spends the whole next day handing us fruits and vegetables. Sharing food with one another is common on train rides in China.
If we decline to eat what she offers, she complains that she'll have to carry it all on her own once she's gotten off the train. Thus, we help her eat some of it.
In the end, she still has a lot left.
On the evening of the second day on the train, she puts all the remaining vegetables and fruits into the suitcase again.
She gets off the train at 5 o'clock the following morning at one of the stops on the road.
She'll take the remaining fruits and veggies to her daughter's place, who is living in the south and whom she is visiting.
Have you ever experienced anything like this?