Book review: "Good Chinese Wife" by Susan Blumberg-Kason
"Good Chinese Wife" is a story about an American woman who finds herself married to an abusive Chinese man.
Ruth Silbermayr-Song
Author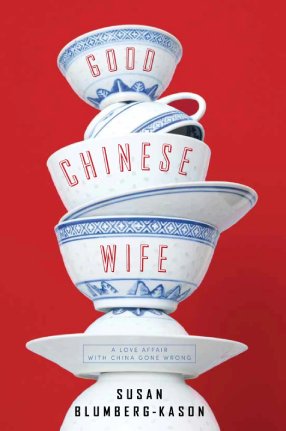 "When Susan, a shy Midwesterner in love with Chinese culture, started grad school in Hong Kong, she quickly fell for Cai, the man of her dreams. As they exchanged vows, Susan was sure her life was perfect…until things took a sinister turn. In her eye-opening memoir, Susan recounts her struggle to be the perfect 'Chinese' wife to her increasingly controlling and abusive husband. At first, she dismisses her own values to save the marriage. But when Cai threatens to take their son, Jake, back to China for good, Susan must find the courage to stand up for herself, her son, and her future."
I have been looking forward to reading Good Chinese Wife – A Love Affair With China Gone Wrong by Susan Blumberg-Kason* since I first heard about it. As an Austrian woman married to a Chinese man, I have been wondering how the book treads the line between personal and cultural differences.
A mistake many of us make when first dating a person from a completely different cultural background is to blame personal differences on culture. After Susan falls in love with Cai in Hong Kong, she does exactly that. All throughout their time of being together, she tries to tread the line between individuality and culture. How much influence does culture have on an individual? How accepting of another culture should we be? Trying to understand her husband's culture with an open-mind, Susan finds herself juggling one after another situation that just doesn't feel right after the initial honeymoon phase.
As the story develops and the two of them get married, Susan wonders if Cai has ever been with prostitutes, if there's more to the close relationship between Cai and his Japanese professor than meets the eye and if Cai is loyal to her on his nightly outings in San Francisco.
The main issue is not if Cai is being loyal or not. The main issue is that Susan can't trust him fully and that they do have communication problems that make it impossible for her to get through to him. Taking in mind the silent treatment Cai has given her in the past, Susan decides not to confront him on sensible topics like his loyalty to her. But not confronting him doesn't make these issues go away, rather, it just widens the gap between them. What a marriage needs to work is not only love, but also trust. In an intercultural marriage, finding a way to communicate is the most important step to making the relationship work. And just like in any other marriage, both partners need to compromise. It won't work if one compromises too much, while the other doesn't compromise enough (just like in Susan and Cai's case) and it won't work if no one compromises.
After having their son, Cai and Susan's differences seem to become even more irreconcilable. With every page the reader turns, it becomes more apparent: Susan and Cai's relationship is unequal. Is this aspect of their marriage based on Chinese relationship dynamics? Is Cai's making decisions without consulting with Susan first a trait that stems from growing up in a patriarchal society? I couldn't help asking myself. My answer is no. Every relationship, no matter if it's between two Americans, an American and a Chinese or two Chinese, has their own dynamics. Inequality is not synonymous with Chinese relationships. There are relationships in China where the man makes the major decisions and there are relationships where the woman makes the major decisions. And then there's the ideal: Relationships where both partners make decisions together.
What can you take away from this book if you're in a cross-cultural relationship yourself? If you have problems in your relationship, it might be easy to blame them on culture initially. But just like Susan concludes after trying to figure out if her and Cai's differences were cultural or personal: "… the answer was finally clear to me: it didn't matter."
I agree. It doesn't matter. If it doesn't feel right, it probably isn't.
Once I started reading "Good Chinese Wife", it was hard to put the book down again. I was drawn into the story from the very beginning. At the beginning of the book, I discovered some uncanny similarities to my own relationship. Just like Susan, I married a Chinese guy after knowing him for only a very short period of time. And just like her, I got pregnant soon after getting married (I just gave birth to a baby boy). But reading on, these uncanny similarities soon gave way to pronounced differences. 
I really enjoyed reading Good Chinese Wife and learning about Susan's personal journey, and I'm sure you'll do too.
Have you ever been in an abusive relationship?